General principle of photovoltaic solar energy in self-consumption kit
Sunlight (solar) is converted by the panels into continuous electricity (such as batteries) and then converted by the inverter into electricity identical to that produced by EDF (alternating current).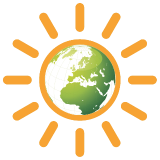 Thanks to the photovoltaic solar kit, you produce your own solar electricity and consume it directly and instantly on your domestic installation. Since electricity always uses the shortest route, you reduce your bill accordingly.
The solar kit is to be connected directly to your home network:
either on a traditional socket outlet
is connected to your home electrical panel (to be carried out by a professional)
The electricity grid remains essential because solar photovoltaic production depends on sunlight. Your consumption may be higher than your production, in which case the network provides you with the additional part.
It is of course advisable to adapt the power of the kit to your consumption. Our kits meet your consumption needs and will of course be easily upgradable according to your future needs: power extension, charging station for electric vehicles, battery storage, etc…
The kits become a breeze to install. You no longer have to install it by integrating it into your roof (with the risk of loss of waterproofing). Several possibilities are available to you:
The over-taxation of your roof. With the help of easy-to-install hooks, sliding under your tiles or slates (see tutorial), rails and module clamps, you can carry out your installation.
On the ground in your garden or on a flat roof without any intervention on your roof
Toutes autres possibilités telles qu'en marquise au dessus d'une porte, sur une ombrière à voiture (car-port), sur un préau etc.
WHAT ARE THE ADVANTAGES OF SOLAR SELF-CONSUMPTION?
You are helping to preserve the health of our planet since your electricity production does not emit CO2
You have full control over the cost of energy production. Once the system is amortized, the cost of a kWh is equal to 0 euros
You have the possibility to install a small production plant to start with, then upgrade it according to your needs
Our homes, offices, manufacturing workshops and industries are now largely equipped with electrical appliances and energy-intensive systems. These devices operate all day long:
For a private individual: refrigerator, freezer, standby appliances, water heater
electric, pool pump,…
For a professional: machine tools, air conditioning/heating, intense lighting, compressors…