1– Planning, administration, certificates, declaration to operate, how to declare my photovoltaic kit in self-consumption and to whom?
If you intend to install photovoltaic panels on your roof, the first thing to do is to declare the project to your town hall to get permission. You must therefore send the form Cerfa 13703-06 downloadable here on  the official website of the French administration.
Your town hall then has 2 months to file the case and give you permission.
As a result of these steps, you will receive a receipt, which your network manager will then ask you if you are considering a connection to the network. Here are all the certificates you need
Two possible cases:
You must file a pre-declaration of work in the town hall. Once your file has been filed, the town hall has one month to process the case.
If you are building a house, consider incorporating the photovoltaic project into your building permit, otherwise you will have to go through a modification permit to be deposited at the town hall.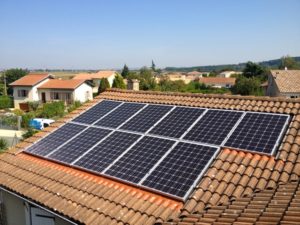 2– You will then have to inform your network manager of your project by completing a self–

consumption agreement downloadable here on

t

he ENEDIS website.
You can self-install your solar kit if it doesn't have batteries and you don't ask for a subsidy and do all the steps yourself.
In addition to the declaration to the town hall, you will have to provide Enedis before the installation of the solar kit;
The self-consumption agreement completed and signed on each page, dated and signed on the last page or now an online declaration: CACSI Convention
A certificate of compliance of the decoupling device to download below (certificates below)
Micro-inverters:
Photovoltaic modules:
3– Request an extension of home insurance coverage
Your photovoltaic installation must be insured under civil liability and fire risk.
An extension of your home insurance will cost you around 10 euros per year according to the insurance companies. Expect about €40 per year for full coverage.
Vertsun is a company with a strong local anchorage in Vienna (New Aquitaine region formerly Poitou Charentes ). We know the various local players in the energy field well and will always be ready to help.