Vertsun specializes in photovoltaic kit for solar in self-consumptio

n

DURING THE CRISIS THE SUN CONTINUES TO SHINE. CONTACT WE FOR ALL YOUR PHOTOVOLTAIC KITS IN 0610648835/contact@vertsun.com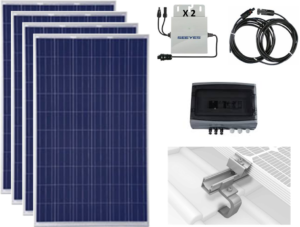 Vertsun, it's not just a cheap self-consumption kit, it's a local, sustainable self-consumption photovoltaic kit
Photovoltaics around the world
Photovoltaic is a mature and major global industry in 2020. More than 300 million solar panels have been installed worldwide in 2018, 40% in China followed by the United States, Japan, India, Australia, South Korea, Egypt, the United Arab Emirates and Brazil.
In Europe, Germany is obviously the leader, followed by the United Kingdom, Italy and France in 4th position. While almost all of the panels are manufactured in South East Asia (China, Taiwan, Vietnam), they represent only 30% of the value of projects in favour of development, study, construction or insurance costs: solar is thus local and national jobs in the countries where it is developing.
Photovoltaics, an eco-friendly solution
In addition, the ecological value of the complex is the subject of particular attention thanks to the carbon footprint of the panels supplied by the main manufacturers. These panels are now guaranteed at 80% of their power up to 25 years of use. In addition, without waiting for the renewal of the first photovoltaic installations of the early 2000s, the recycling chain has been structured around the PVCycle organization that collects and retreats end-of-life panels; A first recycling plant, carried by Véolia, opened its doors in 2018 in Rousset, in the Bouches-du-Rhône.
I compose my self-consumption kit and I produce and consume my own electricity! Here