DURING THE CRISIS THE SUN CONTINUES TO SHINE.
CONTACT WE FOR ALL YOUR PHOTOVOLTAIC HANGARS DEMANDES AT 0785243752/contact@vertsun.com
With 10 years of experience and hundreds of accomplishments, the Vertsun team offers a New Generation agricultural photovoltaic solar hangar
 Power 99.9 kW

Plans optimized according to the needs of farmers: 619.5 m2 in 30 m x 20.65 m (square plan) or 42 m x14 m (long plane) on the ground.

Purchase obligation rate at 111.9 euros/MWh (1st quarter 2019 – unchanged)

Careful completion of the earthworks at the connection, 7.25 m spans

Panels 280 W bankable. Huawei or ABB inverters. Steel Vallourec French manufacturer.

Facilities in all areas Snow A1, A2 even for altitude supper supper suppers of 1000 m and Wind 1 – 2

 Annual production 1050 kWh/kWc minimum

Minimum completion time 4 months from the launch of the Building Permit
The New Generation Agricultural Photovoltaic Solar Hangar:
The low slope of the roof facilitates landscape integration and building permits
The design optimizes mechanical stresses in the structure and ground effort, lightens the amount of steel and concrete.
The shed is particularly animal-oriented for breeders
The Hangar can house any type of storage as well as most livestock
If you would like a solar photovoltaic shed "free" (funded by investor) contact us: contact@vertsun.com
If you want to invest, key cost in hand of the full photovoltaic solar shed from 118k. In the event of agreement on the Building Permit and the PTF, Vertsun:
conducts technical studies
makes the earthworks and builds the Hangar
installs and connects the photovoltaic system (near delivery point)
carried out the control missions
Costs are excluding TFp. Each hangar will be launched by agreement after receiving the simplified PTF or PTF. Special cladding and fittings not included
A company (VERTSUN) whose partners have experience
complete in photovoltaics
A society (VERTSUN) that knows the agricultural world. With several hundred photovoltaic buildings built the team is one of the most experienced in France.
VERTSUN the specialist in the photovoltaic agricultural shed
You have a photovoltaic agricultural project to carry out by renovating an old building or by having a new shed built.
The experienced VERTSUN team offers you to do it for you:
Realization studies of mechanical structures of new or existing buildings (reinforcements)
Electrical study, sizing photovoltaic power from 30 to 100 kW in obligation to purchase and above 100kW in Tender
PV GIS/SYST and calculating photovoltaic production potential
If necessary for existing buildings: asbestos removal
Administrative and financial editing and filing of files in Purchase Bond or Tender
Assistance for capital financing and/or debt
Project management assistance. Depositing Network Connection Records (TFP)
Administrative management of the site
Site tracking
Compliance with connection times
Compliance with safety rules
Compliance with costs
Vertsun, a company with a strong local roots in Vienna (New Aquitaine region formerly Poitou Charentes ) close to the needs of farmers.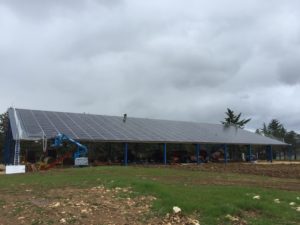 Download the Vertsun New Generation Photovoltaic Agricultural Shed Brochure