The 36x36m TENNIS court Hangar: an exclusive Vertsun product in partnership with Vallourec. You can get this hangar for free to cover your double tennis court by adding a photovoltaic shade house operation or a photovoltaic gymnasium cover.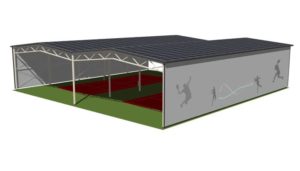 A 36×36 Shed TO COVER 2 TENNIS COURTS – RESPECTING INTERNATIONAL STANDARDS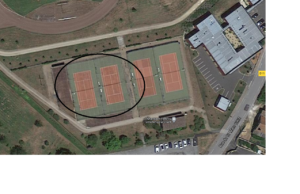 CAPABLE OF HOSTING A ROOF PHOTOVOLTAIC INSTALLATION
Lighting of the two covered play areas 500lux Medium with uniformity coefficient of 0.7.
Supply and installation of LED type lighting projectors. Wiring of the assembly from cabinet to be created.
Security lighting positioned above the various accesses + cabling.
Supply and installation of a type 4 fire alarm. Supply and installation of an electrical cabinet to protect the installation.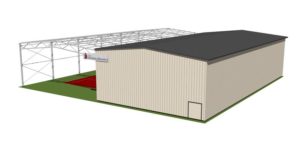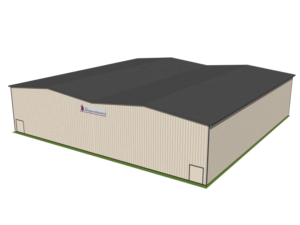 MSH TUBES technology: MSH properties useful for agri pv and special solar structures
Homogeneous and less residual stress
Advantages for cutting, beveling, welding, bevel cutting, drilling, bending, connection …
Reliable geometric properties
No restriction on the corner area
Large span and fewer pillars
Aesthetic advantages with MSH sharp edges
No nip points, less dirt, easy cleaning
Aesthetic and slim design
Less dirt and contamination of (closed) surfaces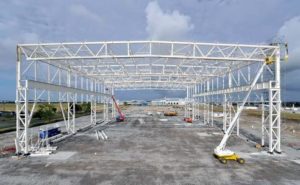 Facilitate access, minimize clutter and reduce visual impact thanks to a reduced number of pillars
The tube structure avoids the angles of the IPE / IPN, limits soiling and facilitates cleaning (asset in the current period)
Competitive structures thanks to light weight and reduced manufacturing time
Faster project meeting value expectations through adaptive and modular design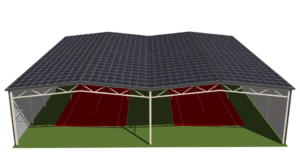 The photovoltaic plant over the entire surface of the roof in « landscape » according to a technology mastered and patented by Vertsun (French patent n ° 1906347 – Photovoltaic Hangar)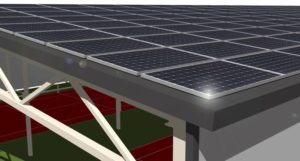 The photovoltaic power plant is placed on a steel deck, guaranteeing the absolute watertightness of the installation throughout the life of the building. Integration system certified type K2 (EU) or Solar Sit (New Aquitaine)
An exclusive Vertsun product: contact us on contact@vertsun.com